email - github - google scholar - twitter
About Me
I am an HCI Researcher and a Postdoctoral Fellow in the Dynamic Graphics Project Lab at the University of Toronto working with Professor Tovi Grossman. Previously, I was a researcher at the Visualization and Intelligent Multimodal Interfaces Group at INESC-ID Lisbon under the supervision of Professor Joaquim Jorge. I received my PhD, MSc and B.Sc. degrees in Computer Science and Engineering from Técnico Lisboa / University of Lisbon.
In my research, I have been designing and evaluating novel interaction techniques for the engineering, architecture and medical fields, focussing on computer supported remote collaborative work in Mixed Reality environments. I also have experience in 3D user interfaces, interactive spaces, touch and mid-air gestures.
I have been fortunate to see my research published in top international conferences and journals, such as ACM CHI, ACM UIST, ACM ISS, ACM IUI, ACM VRST, INTERACT, IJHCS, IEEE TVCG, and IEEE VR. I am currently a member of the organising committee of the international conference ACM ISS 2022 and IEEE VR 2023. I am also an organizing member of the Enhancing Cross-reality Applications and User Experiences Workshop at AVI 2022.
Please find my CV here.
Publications
Conference Papers
Journal Articles
Book Chapters
Other Peer Reviewed Publications
Workshops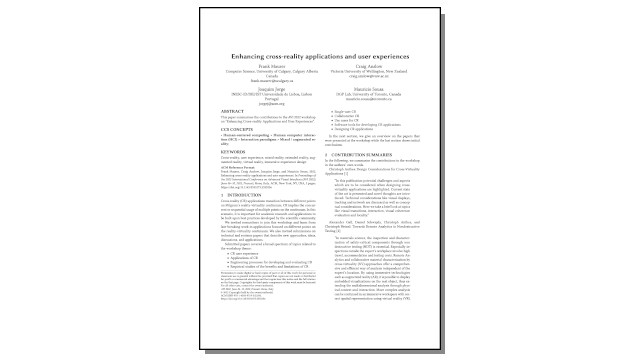 Workshop: Enhancing cross-reality applications and user experiences.
International Conference on Advanced Visual Interfaces (AVI 2022).
Workshop
PDF
Theses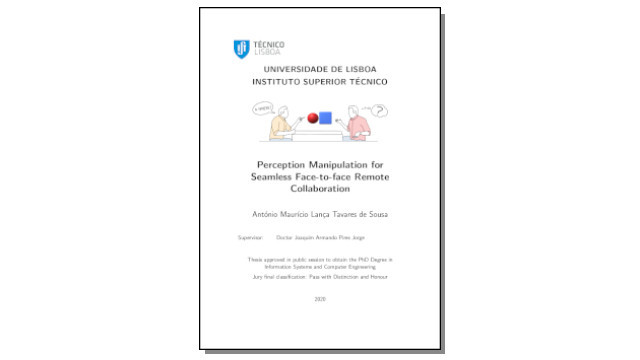 Perception Manipulation for Seamless Face-to-face Remote Collaboration.
Ph.D. Thesis. Instituto Superior Técnico, University of Lisbon.
2020
PDF
-
Presentation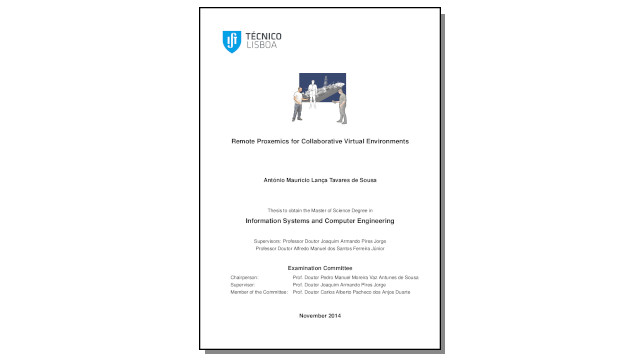 Remote Proxemics for Collaborative Virtual Environments.
M.Sc. Thesis. Instituto Superior Técnico, University of Lisbon.
2014
PDF
Contact
dgp Lab
Department of Computer Science
University of Toronto
mauriciosousa [at] acm.org